What are Video Live Streaming Services?
Video live streaming services refer to online platforms enabling individuals, businesses, and organizations to broadcast video content in real time. This content can include various material, such as live events, webinars, gaming sessions, educational tutorials, product launches, and more.
Viewers can access and watch the live stream as it happens, often with the option to interact with the streamer through live chat, comments, and reactions. Key features of video live streaming services typically include real-time interaction between streamers and viewers, the ability to reach a wider audience, flexibility in the content types that can be streamed, monetization options for content creators, and access to analytics and insights to understand viewer behavior.
Know More
Have a look on our UI/UX desing
Snapshots that make you feel interactive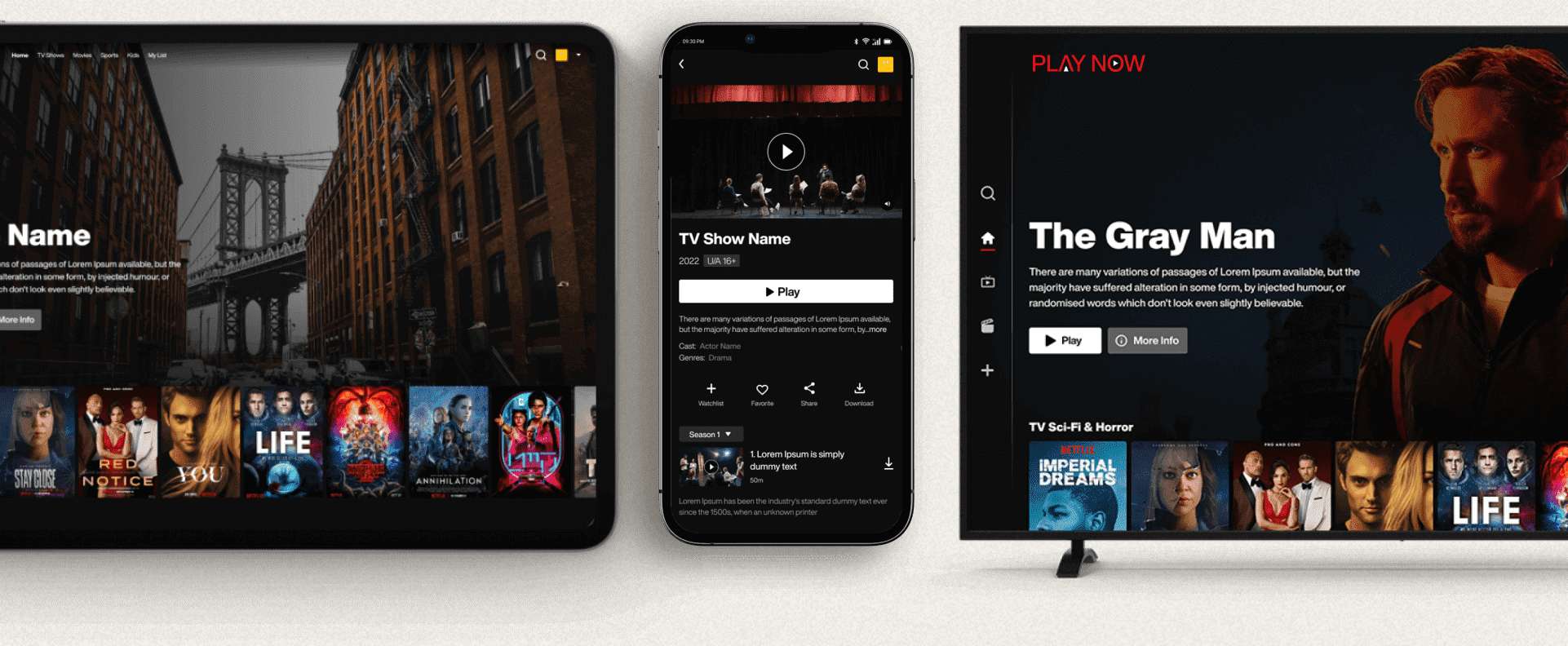 Advance features
What We Offer You?
Get Answers for Your Queries
FAQ
Video live streaming is the real-time broadcasting of streaming content over the internet, allowing viewers to interact and watch with it as it happens.
Live streaming involves capturing video and audio in real time and transmitting it to an online audience through a live streaming platform. Viewers access the stream via a website, app, or smart device.
While basic live streaming can be done with a smartphone or webcam, professional-grade streams often require cameras, microphones, and encoding hardware or software.
Yes, many live-streaming platforms offer monetization options, including ads, sponsorships, donations from viewers, and premium subscriptions.
You'll need a camera, microphone, and a live streaming platform to start live streaming. Sign up on a platform, configure your settings, and start broadcasting.
You can live stream content, including gaming, music performances, tutorials, product launches, vlogs, and more.
Interact with viewers through live chat, answer questions, and encourage them to use reactions and comments to engage with your content.
Buffering issues can result from slow internet connections, high server loads, or insufficient hardware. Ensure your internet connection is good and your equipment meets the streaming requirements.
To improve quality, use higher-quality equipment, optimize your internet connection, and adjust stream settings for higher bitrates and resolutions.
Check Our Client's Experience
Client reviews
I've been using Alphanso Technology's Video Live Streaming Services for over a year and am continually impressed. Their platform is intuitive, and the customer support is fantastic.
Sarah Smith
With their live streaming services, Alphanso Technology has taken our events to the next level. The quality is outstanding, and the features make our virtual gatherings feel engaging and interactive.
James Turner
I started my streaming journey with Alphanso Technology, and it's been a fantastic experience. The platform is user-friendly, and I've built a dedicated audience thanks to their tools.
Maria Rodriguez
Alphanso Technology's Video Live Streaming Services have revolutionized our corporate communication. We can host webinars, conferences, and product launches effortlessly. It's a game-changer for us.
David Clark